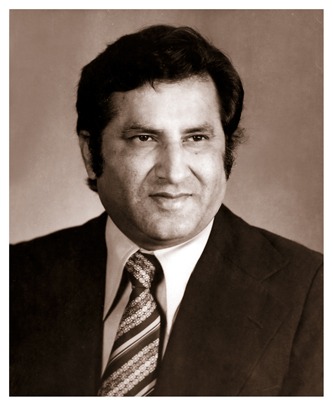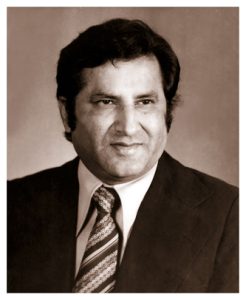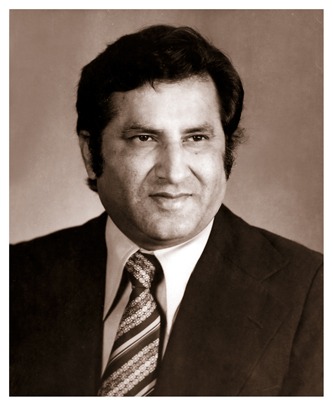 This article was printed in Newsline, dated May 2002.
S. M. Shahid provides a poignant insight into the "intensely emotional" man behind the legend.
Latif Kapadia – banker, stage, TV actor, singer – and above all, a good friend. Let me tell you about just one aspect of his personality – his quest for happiness.
Our friendship spanned over half a century and in all these years I have not know another man who was so persistently looking for an excuse to enjoy life and be happy. This deliberate quest for happiness naturally brought frustration in its wake, since life is not all about happiness. One of the pitfalls is, it has to be lived with other people!
I have a feeling that in chasing happiness, Latif tired himself out. He was an intensely emotional person and his agonies stemmed from his strong aspiration for peaceful coexistence a man, shanti, dosti. This "flaw" in his nature must have been the reason for his frequent fights with people. How dare the world not go along with him! How dare people not cooperate with him in making an effort to be happy!
His other obsession was with hypocrisy. Not only had he no patience with people whom he thought were hypocrites, he looked for signs of hypocrisy in his friends and was most of the time looking for trouble. I remember an incident at my house when he shot an abrupt question at me at the dining table: "Do you believe in God?" I kept quiet and he repeated the question. "this is a personal matter and I do not want to discuss it," I said, Nothing would infuriate Latif more than a diplomatic response, My answer came in the category of hypocrisy and it was enough to make him explode: "You bloody hypocrite! You don't have the courage to tell the truth!" This was Latif.
But his rage would pass in no time and he would try to make amends: "Abey yar, main to tuje se ek baat pocch raha tha… main dost hoon, muje se to such baat bata dia kar?"
His motto in life was "zindagi mein maza aana chaaahiyay."
At times his search for happiness was only skin-deep, but most of the time he was looking for truth, love and sincerity, We all look for these blessings, but we know how to live with the bitter truth that true friendship, love and sincerity are not easy to find and one should learn to be happy even in their absence.
Latif's thirst for happiness was never quenched. He looked for it in old friendships, in creating new bonds with strange characters and he looked for it in the words of a song by K.I Saigal:
"Ek bangle banay niyara"
Rahe kumba us men sara"
Latif loved to sing this song and when he sang it, his ecstasy was something to be seen.